Marrying the physical and virtual customer experience: the 'new normal'
Published on:
July 23, 2014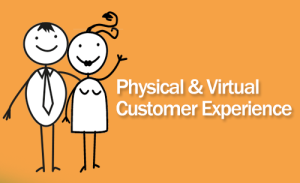 In most sectors, the customer journey is growing in complexity, spanning interactions across multiple channels with customers interweaving digital interactions with physical (in-store or branch) experiences. Customer service and the customer experience needs to evolve in order to stay on top of these changes.
Previously a lot of information people might have needed before a purchase was delivered face-to-face by an in-store sales assistant. But now a consumer quite often gathers information online on their phone before making a purchase. They might look for what others have said about the product in online reviews, visit a brand's website or Facebook page, or interact with its customer service channels.
Companies therefore need to understand the evolving customer journey and adapt the customer service experience they deliver - finding ways to provide information, answer questions and interact with the customer digitally either before, during or after they visit a shop.
Management consultant McKinsey and Company suggests that the way companies engage customers in these digital channels matters profoundly—"not just because of the immediate opportunities to convert interest to sales, but because two-thirds of the decisions customers make are informed by the quality of their experiences along their customer journey".
According to McKinsey, how companies deliver a seamless convergence of digital and physical interactions is critical to success. They paint a picture of a couple that has just bought their first home and is looking to buy a washing machine and a tumble dryer. Mike and Linda visit various websites and build a wish list of appliances on one of them. When they visit the physical store to see the appliances, the retailer has already texted them a reminder link to their online wish list, as well as links to updated specs and prices for the machines they were interested in (captured through their click trails on the retailer's website). They have also been texted about a special discount on one of the items.
When Mike and Linda tap on the wish list text, the app provides a store map directing them to the home appliances section and a "call button" to speak with an expert. The example ends with the couple making a purchase; taking advantage of the discount they were offered. They leave with a delivery date – knowing they will receive a text reminder on the day of delivery.
How do you prepare for this merger of virtual and physical experiences? Here are some important considerations:
Use a centralised knowledgebase. Provide a single source of information that is instantly available, whatever the channel. It can be used via self-service on your website, by agents on the phone, email or social media channels or by in-store staff, to give consistent answers, whatever the channel.
Make sure your systems are joined up. Integrate information across the customer journey, combining all the digital and physical interactions that a customer has with the company to help personalise service and engagement.
Analyse and automate. The number and frequency of customer interactions with companies is growing rapidly. So use technology such as linguistics to scale your operations, analyse incoming interactions and provide automatic responses where possible. Use linguistics to analyse longer term interactions – what are customers asking and how can you use this to change your products and services?
Be proactive. Use tools such as proactive web chat in the same way as a shop assistant, triggering online help sessions if customers seem to be stuck. Arm sales staff with mobile access to information so that they can deliver consistent, fast answers in-store as well.
The true, seamless merger of the physical and virtual worlds in the customer journey may still be some way off. But things are changing. Customers now expect to access more information on products and prices while they are shopping and want to engage with customer service while in-store. Post purchase they want to be able to track deliveries so they can plan their day accordingly. Joining up the customer data, channels and systems to create this seamless experience is going to require consistent processes and knowledge and may initially be uncomfortable as companies adapt. But the pain will be worth it, with a seamless experience delivering competitive differentiation, greater efficiencies and increased revenues.
Categories:
Customer Engagement, Customer Experience, Customer Service, Agent Knowledge Base, Marketing, Multichannel Customer Service, Chat
You might also be interested in these posts: