The mobile customer experience – failing to deliver
Published on:
September 20, 2013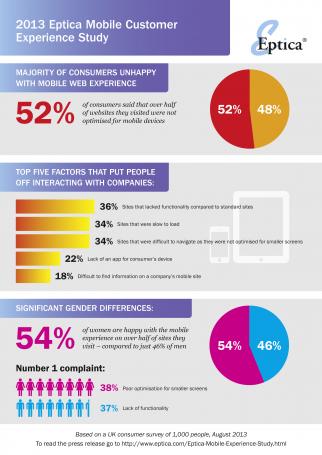 More and more of us are using mobile devices to interact with companies online. The combination of the ease of use of tablets and the fact that we always have our smartphones to hand, mean that for many it is fast becoming the default way of accessing the internet. Backing this up, consultancy IDATE predicts that by the middle of next year more people will get online through smartphones and tablets than PCs.
Consumers demand the same high standards on mobile as on the 'traditional' web. But our own research has found that they are being disappointed by brands. The 2013 Eptica Mobile Customer Experience Study discovered that websites are simply not delivering. 52% of consumers said that over half the websites they visited weren't optimised for mobile devices. A shocking 16% said that they had difficulties with the majority of sites.
The top five key factors that put people off interacting with companies were:
Sites that lacked functionality compared to standard sites (36%)
Sites that were slow to load (34%)
Sites that were difficult to navigate as they weren't optimised for smaller screens (34%)
Lack of an app for consumer's device (22%)
Difficult to find information on a company's mobile site (18%)
Essentially companies are refusing to deal with customers on their channel of choice, potentially impacting businesses in three key areas:
1 Brand damage
Provide a poor experience and it will hurt your brand. Customers are quick to take to social media (using the same mobile devices) to share their bad experiences with their friends and wider networks, causing damage to your reputation.
2 Drop in sales
If you don't provide a decent mobile experience, customers will simply head to your competitors that do understand the channel. Mobile is an essential part of the customer journey for many consumers, whether researching, buying or simply locating your nearest store. Fail to understand this and you'll lose business now and in the future.
3 Increased costs
While some customers may simply walk away from a poor mobile experience, others that need to find information will switch to other channels. Whether that is calling, emailing or using social media to contact you, the likelihood is that dealing with these interactions will be through more expensive channels, increasing your operational costs.
You can see an infographic with all the results of the research, including some interesting gender differences here.
The tools to optimise the experience for mobile consumers are readily available and companies need to embrace them – before customers move to their rivals.
Categories:
Contact Center, Customer Experience, Customer Service, Mobile, Multichannel Customer Service
You might also be interested in these posts: