Moving from monologue to dialogue with customers
Published on:
September 10, 2014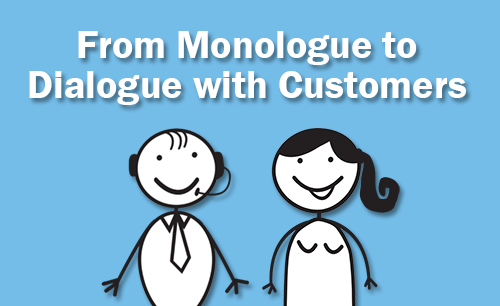 Organisations need to radically change how they interact with their customers proclaimed Jo Causon, CEO of the Institute of Customer Service (ICS) in a recent speech. In her state of the nation address, she highlighted how the balance of power has shifted dramatically from companies to their customers. While many organisations see this swing as a threat, it can actually deliver benefits to those companies that embrace and improve the customer experience.
Driven by better access to information and new channels such as the internet and social media, consumers can now share their feedback and views more widely than ever before. These developments have transformed the traditional, one-way conversation which was typified by companies pushing their carefully planned messages to customers. Now, customers want a two-way dialogue, not a monologue - companies can no longer control the conversation. This has a real impact on how organisations interact with consumers and, ultimately, whether they succeed or fail as businesses.
Changing from the traditional top down model to a more conversational way of engaging might seem challenging but it can deliver real benefits in 3 areas:
1. Co-creation: Capturing and acting on feedback and insights can help companies create products and services that better match customer needs, helping to boost sales and revenues.
2. Improved customer relationships: Engaging positively with customers in a dialogue increases loyalty and leads to an increase in referrals, both directly and via social media.
3. Differentiation: Organisations that value customers and interact conversationally with customers can differentiate themselves, and consequently transform the service they deliver.
While some companies are embracing the idea of customer dialogues, there is clearly a long way to go. For example, the ICS UK Customer Satisfaction Index, which tracks customer happiness with the service they receive from brands, fell in July 2014 for the third consecutive time. Over half of organisations experienced a drop of at least one point in their ratings, while satisfaction levels fell in 12 out of the 13 sectors surveyed. Just 28 out of 197 organisations saw their scores rise.
These findings are supported by the Eptica Multichannel Customer Experience Study, which found that many companies are still providing average or worse service on some channels. Email customer service was often slow or unavailable, just 39% of companies responded successfully to questions on Twitter, and overall there were vast differences between the best and worst performers across sectors and channels.
So what should companies be doing to make the most of the changes the industry is experiencing? In her speech, Jo Causon of the ICS points to 5 key areas:
Invest in people with the right skills, including those that have a high level of emotional intelligence and commercial acumen. Then support them with the right technology and tools to do their jobs.
Report publicly on your customer service measures and satisfaction levels in order to motivate and spur the whole company on to continually improve.
Use insight from customer service to drive business change including amending your products and services and the way you deliver them to meet consumer needs.
Make customer service a boardroom issue so that it is top of mind in all business decision-making.
Use customer service and the insight you receive as a predictive tool to shape the direction of your future strategy.
We all know that the balance of power has shifted so that customers now have greater influence on the companies they buy from. Organisations can either start shaping the customer experience they offer in a way that increases two-way engagement with consumers – or stand still and invite failure. The rewards for transforming the experience are potentially huge in terms of winning new customers, retaining old ones, building your brand and increasing loyalty. The time to focus is now.
Categories:
Contact Center, Customer Engagement, Customer Experience, Customer Service, Multichannel Customer Service
You might also be interested in these posts: