Online reviews and the impact on customer service
Published on:
November 21, 2014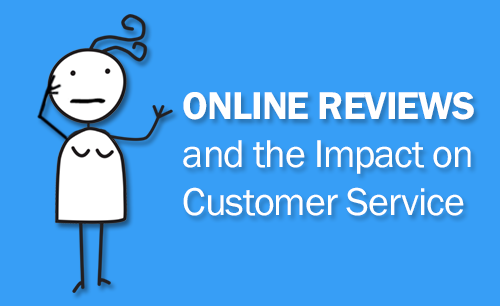 Since online reviews became prevalent, championed by the likes of Amazon, their impact has spread widely across multiple industries. This has been driven by three main factors:
The growth of ecommerce means that consumers are increasingly buying goods that they've not been able to see in person, meaning that they want assurance as to product quality.
It gives buyers the opportunity to benchmark the quality of more intangible things, such as a holiday destination, a restaurant or another service.
Finally, people are now much happier to give their feedback, whether via social media, in person or online on company or review sites.
The rise of online reviews is part of a shift in the balance of power between consumers and businesses. Rather than share a bad experience with a relatively small number of friends and family, they can broadcast their thoughts to the world, with consequent damage to reputation and future sales.
Companies therefore need to adapt and both ensure they are providing the best possible service and also that they respond to bad reviews in order to attempt to turn critics into brand advocates. A study conducted by Harris Interactive found that when retailers replied to negative reviews on social media and online ratings sites, a third of customers either deleted their original negative review or replaced it with a positive review. Nearly a fifth went on to become loyal customers and made another purchase.
What works less well is the tactic adopted by a Blackpool hotel, which fined a couple £100 after they left a poor review on Trip Advisor. While the potential charge was flagged in the booking document, the incident has generated significant negative publicity, and the hotelier has agreed to drop the fines going forward. So how can companies best meet customer needs in this era of online reviews and constant consumer feedback?
1 Learn and prevent An obvious first point is to ensure that your practices and processes minimise the possibility of customers complaining. So aim to get it right first time. Additionally learn from complaints to change how you operate to avoid the same mistake or issue arising more than once.
2 Provide channels for feedback Whatever the customer experience, good or bad, companies need to know quickly so that they can take appropriate action. Therefore ensure that feedback mechanisms are clearly signposted. Also, use analytics to monitor trends within the questions that customers are asking through customer service channels – this gives a chance to capture feedback from those that don't fill in surveys.
3 Listen to your customers Customers won't just give their feedback on the experience through your 'official' channels. So ensure you are active on the channels they choose – whether it is social media or review sites, and are monitoring for relevant mentions and reviews that you can reply to. Again, respond quickly to queries before issues have the potential to go viral and cause greater damage.
4 Act with empathy Don't take negative feedback personally. Put yourself in the customer's shoes and see it from their point of view. Respond sympathetically and try to find out the facts behind a complaint, and then ensure staff are empowered to provide a solution quickly. Mistakes can happen – it is how a company deals with them that breeds loyalty and can turn complaining customers into brand advocates.
The balance of power between consumers and brands has changed. Therefore companies need to monitor, analyse and act on reviews quickly and effectively if they want to retain customers, protect their brand reputation and grow their business. Fining customers is never going to be a long-term solution to the rise of online reviews!
Categories:
Contact Center, Customer Engagement, Customer Experience, Customer Service, E-commerce, Retail, Travel
You might also be interested in these posts: