Planning for recovery
Published on:
August 21, 2013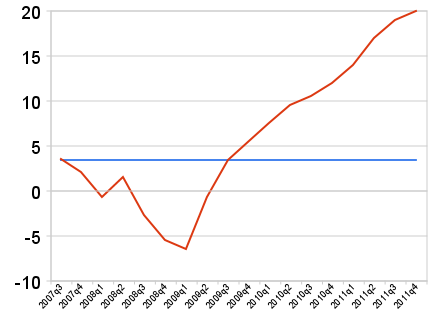 At long last the UK economy seems to be improving. Figures from the Office of National Statistics show growth of 0.6% in Q1 2013 and the CBI is forecasting an increase of 1.2% over the whole year. Other recent surveys have shown positive results in manufacturing, housing, services and construction.
Obviously this is all good news, but how does it affect customer service teams? After a prolonged period of budget squeezes and aiming to do more with less, how should companies change their strategy? How will the customer experience need to evolve?
Before businesses start to celebrate they need to face up to a sobering fact - more companies fail coming out of recession than in the midst of it. This is due to a failure to plan for growth and a lack of the right resources for the new business environment.
While it is early days in some markets, now is the time to look beyond austerity and create a strategy for the future. There are four factors that organisations need to take into account:
1 Competition won't go away
Customers may be spending more, but your competitors will also be redoubling their efforts to win their business. The improving economy may well encourage new entrants to your market, so you can't afford to relax the focus on the customer.
2 Customers are more demanding
Even if they have more money in their pocket, consumers are still wary of spending it. They want the highest levels of service, good value and great products if they are going to buy from you. Fail to deliver this and they will simply take their business elsewhere.
3 Technology has moved on
Channels such as social media are now critical to the customer experience. Mobile devices are pervasive. Consumers enjoy the freedom and simplicity of interacting with brands using Twitter and Facebook from their smartphone and tablets, particularly when they have a problem. This will only accelerate, so companies need to make sure they have incorporated social and mobile into their customer experience strategy, rather than just paying lip service to them.
4 Avoid skills shortages
While unemployment is still over 7 million, an improving economy will increase demand for staff with the right skills. Ensure you keep your workforce happy by investing in training, company culture, technology to help make their jobs easier and (where possible) pay rises. Plan your future staff needs – what skills will your customer service organisation require and how will you meet changing consumer demands?
The UK recovery is still fragile, but now is the time for customer service teams to plan for the future.
Categories:
Contact Center, Customer Experience, Customer Service, Multichannel Customer Service
You might also be interested in these posts: