The rise of the Customer Engagement Center
Published on:
May 22, 2015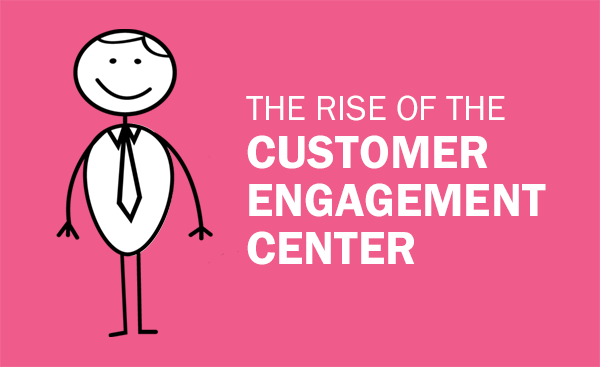 Delivering a superior customer experience can now be extremely complex for companies. Consumers want to use multiple channels, and expect to be able to switch between them seamlessly on the customer journey, while still receiving the same high level of fast, consistent service, personalized to their needs. At the same time the number of incoming interactions is growing rapidly, particularly on digital channels.
Some of the key factors further deepen this complexity include:
1 Mobile
Customers are spending more and more timeusing mobile devices. If they want to engage and provide the support and service that consumers require, brands need to ensure that they are embracing mobile and making it easy to be contacted through mobile channels, such as optimized websites, apps or chat.
2 Social Media
The widespread adoption of social media, and its ease of use, has had a major impact on how consumers interact with brands. It is now simple to ask a question or make a complaint on Twitter or Facebook, but many organizations struggle to incorporate social media into their customer service infrastructure. Given the always-on, fast-moving nature of this channel, consumers expect their questions to be answered quickly, but without any drop in quality. Additionally, the straightforward and highly intuitive interfaces used by social media and messaging apps sets a new standard – customers (and agents) expect the same user experience when they are dealing with a brand online or through digital channels.
3 Cross-department, cross-company
As outlined before, the multichannel customer journey is complex and difficult to map. At the same time it spans multiple departments within an organization, from marketing and sales to customer service, logistics and post-sales support, for example. Each of these can have its own processes, business rules, and procedures, and merging these together to match customer needs, while ensuring the process is fast and efficient, is both vital and potentially difficult. Coping with this complexity requires flexible technology that can link to multiple systems, exchange information and is able to extend to meet future needs.
4 The move to the cloud
Flexibility and the ability to scale are critical to next generation of customer engagement solutions. Consequently organizations are looking to adopt SaaS-based systems that can adapt to meet changing needs, allowing companies to access resources as necessary and to easily share with virtual teams across the globe.
The rise of the Customer Engagement Center
Recognizing the step change caused by these factors, Gartner has identified that traditional contact centers are evolving into Customer Engagement Centers (CEC). These extend CRM to reflect new multichannel and increasingly digital forms of customer engagement.
Back in 2014, Gartner analyst Michael Maoz set out this definition, "The CRM customer engagement center refers to a logical set of business applications and technologies that are engineered to provide customer service and support, regardless of the interaction (or engagement) channel. The goal of the CEC is not only to provide reactive service to customers as they move among communications channels — including social media — while retaining the customers' context, but also to deliver the appropriate business rule to determine the next best action, information or process with which to engage the customers."
Gartner's latest Magic Quadrant for the CRM CEC has recently been published, and looks at how technology is evolving to meet these changing needs. According to Gartner, the Magic Quadrant examines the market for global customer service and support applications for case management, trouble ticketing and problem resolution. The functionality evaluated includes knowledge-enabled service resolution, social media/community management, offer management, interaction assistance tools and service analytics dashboards.
For the 2015 report Gartner evaluated vendors on their completeness of vision and ability to execute on that vision. The analyst house performed more than 200 surveys and telephone interviews with vendor references and conducted over 750 inquiries with Gartner clients to evaluate the products. Eptica is one of the vendors included in the report, marking the second consecutive year it has appeared in this Magic Quadrant.
As customer engagement becomes ever more vital, brands will need to re-architect their strategies and infrastructure in order to succeed in the market. Those that are leading the way and are adopting flexible yet powerful technology are likely to have the upper hand moving into the future.
Categories:
Contact Center, Customer Engagement, Customer Experience, Customer Service, Gartner, Mobile, Social Media
You might also be interested in these posts: