The Sharing Economy and customer service
Published on:
June 24, 2015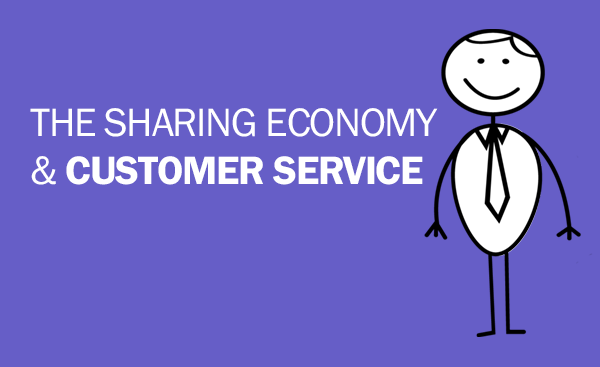 The internet and ecommerce have transformed how we research, buy and communicate across a wide range of activities from shopping and choosing holidays, purchasing insurance to applying for a mortgage. Characterized by disruptive internet giants such as Google and Amazon, this shift has fundamentally changed customer service, but also brought its own challenges around confidentiality, protecting data and scaling to meet customer service needs.
Take Google's two-pronged approach to customer service. Large customers (such as major retailers or agencies spending millions onAdWords) are serviced by a real account representative; while billions of smaller customers (many of whom aren't paying for their Google products) are supported through automated self-service systems using online content (such as videos) and community forums where customers help each other. As Google argues, if you have a billion users, and just 0.1% have a query that needs attention, you'd need to employ nearly 21,000 customer service staff just to respond.
The way Google, Amazon and other internet giants operate has brought new ideas to the fore when it comes to customer service. These include:
1. Place the emphasis on self-service
Enable customers to do as much as possible themselves such as answering simple enquires, checking the status of their order to returning goods. As well as keeping costs down this can makes it easier and less painful to scale customer service as your business grows.
2. Focus on service delivery
Realize that customer experience is paramount and the primary way to build loyalty. It is vital to understand that every customer has a choice and in the internet world consumers are only a few clicks away from a competitor – you just can't afford to get things wrong.
3. Empower employees
As well giving customer service staff lengthy training and a pleasant working environment, leading internet companies give them the power and responsibility to take action independently to resolve customer problems, without having to continually refer back up the management chain. For example, Zappos staff are given the discretion to decide whether to give a customer a free pair of shoes if the situation merits it.
4. Eliminate silos
Companies that have grown up in the internet age have been able to put processes in place toavoid silos which can be a block on customer service. The sales and marketing departments, and the teams manning the contact center and social media, work in a consistent, joined-up way so consumers get the same experience throughout the customer journey, however they make contact. After all, customer service is not a department, it's everyone's job.
The rise of the Sharing Economy
We're now seeing a second wave of disruptive companies building on the changes introduced by the original internet giants. Sharing economy companies such as Uber, Instacart and Airbnb are enjoying great success with a business model that uses technology to help people rent out their own time and services as self-employed contractors or to provide access to their possessions (such as a car or house), when they aren't using them.
Because sharing economy companies don't employ their own staff at the point of delivery, they have less control over customer service. A little like a franchise operation, anything their contractors do wrong will reflect badly on the brand. Consequently, customer service experts have commented that while this new breed of companies provide convenience, they also face challenges they face in trying to deliver a consistent, quality customer experience.
To solve this potential problem, sharing economy companies should learn from the first wave of internet companies and other successful brands, in five key areas:
1. Build a strong brand reputation for customer service
You need to attract loyalty from customers and the people contracted to deliver your services. This means setting up, communicating and implementing strong policies and procedures that everyone follows when dealing with end customers.
2. Share knowledge
Many sharing economy 'employees' are new (and possibly not professionals) so it's essential to get them up to speed fast. You also need to give them a back-up of a centralized knowledge basewhere they can get immediate answers to customer questions or areas they are unsure of.
3. Make it seamless for customers
Use the power of internet, self-service and apps to deliver a straightforward customer experience that enables consumers to get real-time information and updates, and empowers them to solve basic issues themselves.
4. Be scalable
Companies can go from operating in a single city or country to becoming global in a matter of months. Ensure you have the right resources in place to scale customer service to match your growth – look at how Google and Amazon have succeeded and learn lessons.
5. Be personable
Because they rely on third party contractors, who may not have the same level of loyalty as employees, to represent them, and also because of the disruptive nature of their business, it's easy for sharing economy companies to come across as a faceless organization. They need to build a brand that shows they are on the side of the consumer, while helping their contractors learn the art of face-to-face customer service. A good place to start is to look at successful bricks and mortar retail organizations – how do they train and motivate their staff?
Sharing economy companies are generating excitement and increasing success with their new ways of doing business. But as competition intensifies the convenience they provide needs to be paired with excellent customer service. They need to learn from the internet giants and other successful brands by investing now to ensure they can maintain a consistent reputation and pave the way for ongoing growth and success.
Categories:
Contact Center, Customer Engagement, Customer Experience, Customer Service, E-commerce, Multichannel Customer Service, Social Media, Self-service
You might also be interested in these posts: