Social customer service: the benefits and challenges
Published on:
October 31, 2014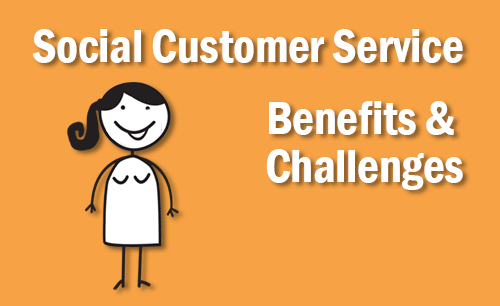 As multiple studies show, social media is now a key channel for customer service. A J.D. Power study found that two thirds of customers who contacted a company on social media did so for customer service. Businesses understand this, but delivering the right level of service can be a challenge, particularly when it comes to integrating with other channels and scaling to meet demand. So, what are customers looking for and how can their needs be best met?
The growth in social customer service is not happening in isolation. It is part of a trend in which customers are becoming ever more demanding. They are much more likely to complain about, and to switch from, a particular provider if they are unhappy with their experience. At the same time they are more vocal about the service they receive - and social media offers an easy, convenient channel to share their experiences, good and bad.
The benefits At the outset it's worth emphasizing that social media gives companies an opportunity to directly engage with customers, help resolve customer problems and build stronger relationships. And it also boosts the bottom line - research by American Express has found that consumers who have received customer service on social media are willing to pay 21% more for excellent service,
In fact the American Express study found that people who have received customer service on social media tell an average of 42 people about good experiences and 53 people about bad experiences (while someone in the general population tells only 15 and 24 people respectively). That provides a huge opportunity to create advocates for your company and products.
Meeting the challenges However, delivering social customer service is not easy, with customers insisting on immediate, consistent responses. For example, Edison Research found that 32% of people who have asked a customer service question on social media, expect a reply within 30 minutes - with 42% wanting an answer within an hour. Worryingly for 9-5 contact centres nearly 6 in 10 (57%) demand "the same response time at night and on weekends as during normal business hours". Consumers view response times as an indicator of how highly a company values their business, and act accordingly.
Similarly, customers expect a consistent level of service across all digital touch points, including social media. This can be challenging because companies will often have more than one presence on social media, with it being used for marketing and PR as well as service. Additionally the CEO and other company executives may also have profiles that consumers will try and interact with to make their issues known. This means customer service requests can easily end up being directed at the 'wrong' company department or employee, and without very good internal collaboration to pass on incoming requests, there can easily be long delays or no response to the customer.
Our own Eptica Multichannel Customer Experience Study also found that many companies aren't meeting customer expectations when it comes to social customer service. Despite 76% of the companies in the study having a presence on Twitter, just 39% answered customer service questions received through the channel. And those who did respond to were slow in doing so: the average successful response on Twitter was 8 hours and 37 minutes. This is obviously well outside Edison Research's hour deadline, taking over a working day before an answer is received.
What should companies do to make the most of the social customer service opportunity? Hootsuite's White Paper, 'Social Customer Service: The Future of Customer Satisfaction', highlights five key areas:
1. Make sure you listen By listening to multiple social channels, companies can capture and resolve an increasing number of service inquiries that would otherwise be missed. You can only do this if you are on the same social networks as your customers, so research your key demographics and structure your strategy accordingly.
2. Embrace negative social media comments Many companies dread negative social comments from dissatisfied customers, but these messages are powerful opportunities to convert detractors into loyal customers. A study conducted by Harris Interactive found that when retailers replied to negative reviews on social media and online ratings sites, a third of customers either deleted their original negative review or replaced it with a positive review. Nearly a fifth went on to become loyal customers and made another purchase. O2's response to negative feedback when it had a network outage back in 2012 is a classic example of using empathy and humour to disarm negative feedback.
3. Use social media to nurture brand advocates Capitalise on positive service experiences by nurturing thankful customers and turning them into dedicated brand advocates. Among consumers who received customer service on social media, 48% have praised a company for a great service experience. Social media allows an organisation to quickly recognise potential advocates, thank them publicly, and spread their positive feedback to a wider audience via social channels.
4. Deliver customer service proactively Monitoring social media can often identify customers who are experiencing challenges with a company's products or services before they request help from an official customer service channel. In such circumstances, providing proactive advice via social channels even before an explicit request for help is made, can help companies delight customers, cultivate brand loyalty, and reduce customer turnover. It also serves as an early warning system – if enough people are complaining on social media, you may well have a wider issue that is affecting your company or products.
5. Better understand the customer service experience Social media allows you to listen to customers in real time and on a massive scale. Using linguistic technology, it is possible to deepen your understanding of the customer service experience and proactively recognise trends, customer perceptions and sentiment around specific products and services. These insights can inform customer service strategy, training and resource allocation.
With social media increasingly central to our lives, the need for smart social customer service is only going to increase in importance. Companies therefore need to invest in the channel and integrate it with wider operations in order to deliver the service that customers are demanding.
Categories:
Contact Center, CRM, Customer Engagement, Customer Experience, Multichannel Customer Service, Social CRM
You might also be interested in these posts: