Social media and customer service in 2015: how are brands coping?
Published on:
June 05, 2015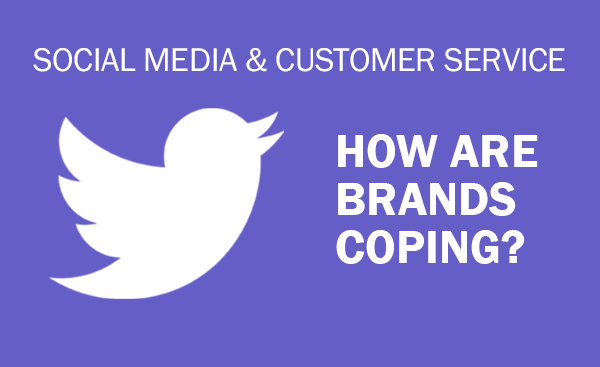 Social media has significantly changed the customer service landscape, rebalancing the relationship between consumers and brands and providing a public forum for complaints to be made. This can have a significant impact on customer perceptions - the number of organizations that have seen issues raised on social media go viral and damage their brand seems to increase by the day.
So, how are companies faring when it comes to social customer service? As part of the 2015 Eptica Multichannel Customer Experience Study we evaluated the customer experience on Twitter, as well as across company websites, email and chat. Covering 100 top brands across all sectors of industry, the Study provides a comprehensive overview of the state of multichannel customer service.
In previous blog posts we've looked at the topline findings and drilled down into the detail of email, travel and insurance customer service. This time, we'll look at the findings on the social media front, analyzing trends and trying to see the bigger picture.
Twitter and customer service in 2015
This year was the second time our survey measured how effectively companies responded to queries sent to their official Twitter handle. The questions asked were the same as those sent via email and chat, allowing us to measure not only response time and accuracy, but consistency across channels.
On the whole, companies showed an improvement over last year when it came to social customer service:
81% now have an official Twitter handle, up from 76% in 2014. Many have specialist customer service handles as well as corporate ones
The average response time to answer a tweet dropped from 8 hours 37 minutes to 5 hours 27 minutes
41% of companies successfully responded to questions tweeted to them, up 2%
The fastest response time showed a big improvement, with two companies answering in just 2 minutes, down from 4 minutes in 2014

Balancing speed and accuracy
But quicker response times aren't the whole story. Though there have been improvements across the board, the survey detail reveals some worrying trends:
Over half (59%) of questions aren't being answered successfully
Many companies (46%) didn't respond at all to a tweet, and 13% of those that did reply failed to answer the question
Six out of ten sectors responded more slowly on average than in 2014
Nearly half of consumers expect an answer to their tweet within an hour. However response times fell short of these customer expectations, with only 32% of companies responding within 60 minutes
Answers on Twitter were frequently inconsistent with email responses, showing a lack of joined-up thinking and a fragmented approach

This year's winners and losers
Unlike other sectors (notably web customer service, where companies clustered at the top or bottom of the scale) there was no clear leader when it came to answering customer service questions on Twitter.
Seven sectors occupied the middle ground, averaging 40-60% of questions answered. The top performers were telecoms and electronics retailers, scoring 60% on average, with entertainment retail remaining bottom with just 10%. That is just one company out of ten successfully responding on Twitter.
Aside from entertainment retailers, most organizations aren't doing Twitter customer service too badly. However, on the other hand, nobody is doing it really well either, as the fact that 41% of questions were answered successfully shows. Clearly there's room for improvement, particularly in the quality and relevance of the responses.
Speed is one of the pre-requisites for social customer service. And just as in web customer service, banking leads the way, with an average response time of just 12 minutes. Unfortunately, accuracy paid the price, with only four out of six messages actually answering the question.
When it came to speed, utilities brought up the rear, taking an average of over 19 hours to respond. Interestingly, their accuracy rate equaled banking, so being fastest or slowest is academic if you give the wrong answers.
Despite this, Twitter is still much faster than email when it comes to the average successful response time: 5 hours 27 minutes versus 29 hours 27 minutes. It's obvious that public channels take priority over private ones when it comes to customer queries.

Twitter leads the way
The 2015 Eptica Multichannel Customer Experience Study also looked at how companies use social media more widely. The figures tell an interesting story:
81% of companies had links to their Twitter handles, up from 76%
67% had links to Facebook, down from 72%
21% had links to forums on their own sites, down from 27%, continuing a steady decline
The Study shows that brands are clearly dedicating time, effort and resource to social customer service. However, they need to do more, as shown by the huge number of unanswered tweets. And speed must be balanced by accuracy, with cross-channel integration and consistency improved. In a world where consumers increasingly turn to social media when they want to interact with organizations, the brands that get social customer service right are likely to reap the benefits in terms of reputation and revenues.
Categories:
Contact Center, Customer Engagement, Customer Experience, Multichannel Customer Service, Social CRM, Social Media, Top 2015
You might also be interested in these posts: