UK travel sector demonstrates disconnect between web and email customer service
Published on:
July 05, 2013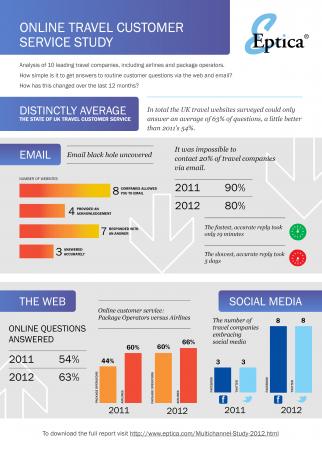 The internet has transformed the travel sector, as holidaymakers can now book the separate components of their break online, rather than having to go through high street travel agencies. But in such a competitive market, customer service and fast responses to consumer enquiries across multiple channels are vital if travel companies are going to thrive.
However research carried out as part of the Eptica Multichannel Customer Experience Study indicates that many consumers are suffering from poor service, with a growing disconnect between the email and web channels.
The study found that travel companies could only answer 30% of customer questions emailed to them. In contrast, their websites successfully provided responses to 63% of online enquiries (up from 54% last year). So, while web-based service in the travel sector is actually above average when compared with other industries, poor email response rates risk frustrating both passengers and holidaymakers.
The research evaluated 10 companies in the travel industry including airlines and package holiday companies as part of a wider study covering 100 companies from a range of sectors including insurance organisations and retailers from fashion, food and electronics. They were tested on their ability to provide answers to 10 routine sector specific questions on their web sites as well as their speed and accuracy when responding to enquiries sent via email, and links to social media.
The Study found that service over email is actually getting worse. Travel companies successfully responded to just 30% of customers' email questions, compared with 50% a year earlier. And while an accurate email answer was received in 19 minutes from one travel company, it took another company 5 days to respond – not much use if you want information about a last minute break!
Comparing different types of travel company, we found that scheduled airline websites were able to successfully answer 66% of customer questions, performing slightly better that package operators (60%). These findings actually show a dramatic improvement from operators to narrow the gap - in the previous study the gap was 20%.
There was also positive news related to social media, with 80% of the travel businesses in the study providing links to Twitter and Facebook and 40% offering their own forums. However none of them linked customer service to social media, showing that this is an area for improvement.
You can see the full results in our infographic displayed below.
In an era of ever widening consumer choice, travel companies need to deliver fast, efficient and consistent customer service across multiple channels if they are to win and retain business. But as the Eptica Multichannel Customer Service Study shows, there's a growing disconnect between response rates on email and the web that could affect the overall customer experience.
Categories:
Customer Experience, Customer Service, Multichannel Customer Service, Travel
You might also be interested in these posts: