Vivastreet wins the prestigious Voted Customer Service of the Year award in France
Published on:
November 13, 2014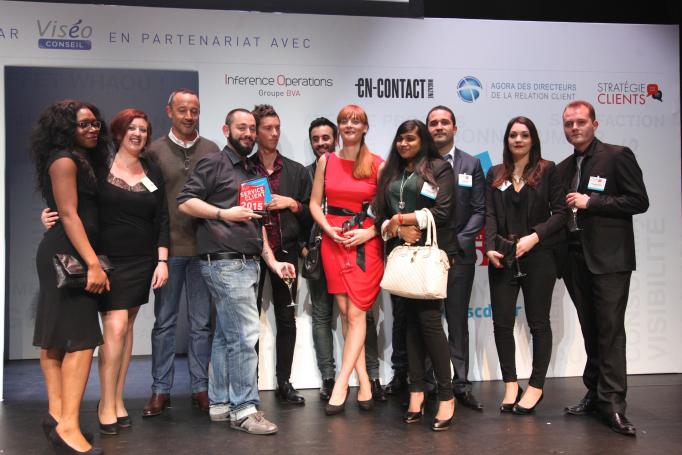 Congratulations to Eptica customer Vivastreet, which recently won its category, Classifieds, in the Voted Customer Service of the Year Award (Élu Service Client de l'Année 2015*). Vivastreet operates a network of free, classified ads sites around the world, with the award being given for the performance of its French site (www.vivastreet.com).
This is the eighth year that the awards have been run, and importantly they are judged from a customer point of view. Up to 215 mystery shoppers test each company's customer service channels (email, web, telephone, chat and social media), and then score them based on up to 15 key criteria. The results therefore exactly reflect the experience that actual customers receive, making them incredibly valuable.
Vivastreet offers users a simple and sociable shopping and selling experience through its extensive choice of adverts ranging from the buying and selling of services, properties, cars, events, pets and much more, all in their local area. It operates across Europe, Latin America, North America and North Africa – in total 14 countries across the world. Through its rigorous manual moderation procedures, Vivastreet ensures its users have a safe and secure experience.
Demonstrating the usefulness of the awards as a management tool, Vivastreet originally entered in order to get an objective analysis and benchmarking of its French customer service operations. It uses Eptica's software to manage its web self-service and email channels, not just for Vivastreet globally, but also for the other brands, such as Easyroommate, the world's number one flatshare and houseshare website, within the W3 Ltd group.
This isn't the first success for W3 Ltd when it comes to customer service awards. In 2013, sister brand Easyroommate was a finalist in the UK Customer Experience Awards. Easyroommate operates in 27 countries and 8 languages across the globe. It delivers customer service for its 844,000 worldwide users across multiple channels, languages, countries, locations and time zones.
By deploying Eptica across the email and web channels Vivastreet and Easyroommate have transformed the customer experience and improved productivity. For Easyroommate customer service calls reduced by 75%, email handling time dropped by 58% and First Contact Resolution increased to above 90%, after the software went live, despite a 30% growth in users. Last year over half (53%) of all interactions were via web self-service, which is available in eight languages on Easyroommate sites for the UK, France, Italy, Spain, USA, Australia, Mexico, Brazil, Netherlands, Poland and Germany. This frees up customer service staff, giving them time to deliver a personalised service to callers with more complex enquiries.
Easyroommate's 20,000 monthly emails are handled through Eptica Email Management. All incoming emails are now automatically analysed and sent to the agent with the best skills to answer them, along with a suggested response in one of 11 local languages. As the system understands the differences between language variants (such as UK and US English and Spanish in Spain and Mexico), responses are tailored to the customer's actual country. This has dramatically reduced the average time to answer by nearly 80%, from 48 hours to 10, since the technology was implemented.
Both Easyroommate and Vivastreet share the same Eptica system, which provides a multi-language, multi-brand and multi-channel platform to underpin their global customer service operations.
Eptica was also well-represented amongst the other winners of the Customer Service of the Year awards. As well as Vivastreet, six other Eptica customers (including Société Générale, Direct Energie and Bforbank) also won their categories at the awards. Congratulations to all the winners.
*Catégorie Petites annonces – Étude Inference Operations - Viséo Conseil réalisée de mai à juillet 2014 sur le principe du client mystère au moyen de 215 contacts répartis entre appels téléphoniques, e-mails, navigations Internet et réseaux sociaux.
Categories:
Contact Center, CRM, Customer Engagement, Customer Experience, Customer Service, Email Management, Multichannel Customer Service, Self-service
You might also be interested in these posts: