Web Chat: Time for UK brands to reap the benefits  
Published on:
May 21, 2014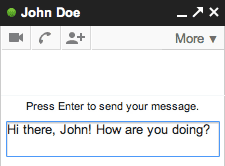 Web chat is growing rapidly in popularity with studies consistently showing that this service is highly valued by customers. For example, a 2013 survey by eConsultancy found that web chat had the highest satisfaction levels for any customer service channel, scoring 73%, compared with 61% for email and 44% for phone. Speed (79%) and efficiency (46%) were the top reasons given for its popularity. A separate survey by eMarketer found that 63% of customers are more likely to return to a site that offers web chat.
The business benefits
Equally, chat delivers competitive advantage. Proactive web chat enables agents to help at key points on the customer journey, improving the experience, reducing abandoned transactions and offering opportunities for upselling. Think of web chat as the online equivalent of a helpful shop assistant that makes the buying process easier, providing advice and suggestions that improve the customer experience and turns browsers into buyers. It is also cost-effective as an agent can manage multiple chats simultaneously. No wonder that proactive chat has a return on investment of 105%, according to Forrester.
Web chat – the picture on the ground
Yet despite these benefits to customers and businesses, few companies actually offer chat. The most recent Eptica Multichannel Customer Experience Study found that its use in the UK's top companies is still in its infancy. We tested the channel by asking a single question through a chat session. Key findings included:
Overall just 13% of companies claimed to offer reactive web chat, a figure that is actually down from 15% last year.
The picture worsened when we revisited sites. We then found that just 7% of organisations had reactive web chat operational (so a drop of nearly half) – possibly because companies were switching agent resources to other channels at particular times.
On the other hand the benefits were immediately apparent. 93.5% of queries were answered satisfactorily– the highest score of any digital channel, and way above the 41% of email and 39% of Twitter.
It was also blisteringly fast. The average chat session took just 4 minutes and 29 seconds. This makes it the quickest channel to receive an online answer from an agent – in comparison the Twitter average response time was 8 hours 37 minutes.
Companies need to deal with a growing number of interactions, across a widening range of channels, often with static or shrinking budgets. However, as both industry studies and the Eptica Multichannel Customer Experience Study show, chat brings significant benefits. Customers understand the channel and value the immediacy, simplicity and personal service that it enables, leading to greater loyalty and recommendations to their peers. It is time to invest in chat and reap the benefits it brings.
Categories:
Customer Engagement, Customer Experience, Customer Service, Chat
You might also be interested in these posts: