What's the state of online customer experience in the UK insurance sector?
Published on:
April 30, 2015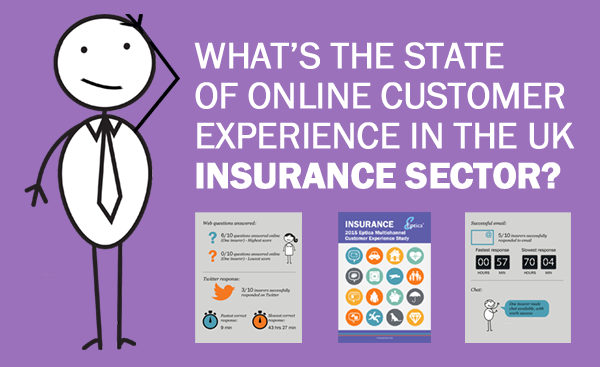 The rise of internet and digital channels has radically changed how people research and buy insurance. It's now extremely simple for consumers to shop around and get online quotes before renewing their policies – especially since the rise of price comparison websites. So it's no surprise that previously loyal customers are deserting to competitors that offer cheaper prices and a better customer experience. At the same time, costs and regulation are increasing, meaning insurers have to become more efficient in order to survive.
All this means it's easy to see why Accenture's 2014 Digital Innovation survey found that insurers were split on whether digital disruption is actually more of a threat or an opportunity for the sector. Just 51% believed the rise of digital channels offered more opportunities than challenges, while 49% took the opposite view.
In order to assess how far the industry has moved towards embracing digital and delivering a consistent, multichannel experience, Eptica recently researched the online customer experience delivered by ten leading UK insurers. Part of the annual Eptica Multichannel Customer Experience Study, the study evaluated the brands' ability to provide answers to ten routine customer questions through the information displayed on their websites as well as their speed and accuracy of information delivered when responding incoming email, Twitter and web chat queries by customers.
Performance was mixed, with many companies delivering a worse service than when the same questions were asked 12 months ago. Overall, on company websites, email and Twitter, insurers successfully answered 40% of all questions – exactly the same as in 2014.
On the web – performance worsens since 2014
Last year, insurance was in the bottom four sectors in our study when it came to answering questions via company websites, scoring 57%. This year insurance scores significantly declined, putting it last of all sectors surveyed. Its score of 40% of all questions successfully answered meant it had dropped 17% since last year.
Email – faster and more accurate, but non-customers shut out of channel
There was positive news about insurers' performance on email: 50% of questions were answered successfully (up from 30% last year), and the average speed of response for the sector halved from 40 to 20 hours. Response times showed wide variations - one insurer replied in 57 minutes, while another took over 70 hours. However, only 7 out of 10 companies offered email to non-customers, down from 9 in 2014. Essentially this means that some insurers seem to have switched off the email channel to try and better manage resources, but this could actually put off new customers and hit potential revenues.
Twitter – performance slows, and response rates stagnate
In both 2014 and 2015, half the insurance companies surveyed were on Twitter, and all of them responded to a question tweeted to their official handle. However, as in 2014, just 30% provided a response that actually answered the question. Response times varied considerably, with one company answering in 9 minutes and another taking over 43 hours. This means the overall average time of all those companies that successfully responded was 8 hours 52 minutes. This was much worse than 2014's 37 minutes - and well below other sectors such as entertainment and banking.
Chat – underused despite advantages for insurers
The Eptica study reveals that insurers seem to have been slow to adopt chat - with just two companies claiming to offer it, and only one having it working when the research was conducted. This is surprising as chat is an easy way for consumers to find answers to their questions, and is well suited to a complex, highly regulated market such as insurance because it provides a written audit trail of every conversation. Additionally it's more efficient than the telephone channel as agents can manage multiple chats at the same time.
When our study analysed consistency, we found that no insurer was able to answer questions on all three channels (email, Twitter and web chat), and 20% failed to provide an answer at all on any of them – a risky strategy considering how easy it is for customers to go elsewhere. More positively 40% successfully answered on both email and Twitter, double the number of last year.
Overall, the Eptica study indicates there is some way to go before the insurance sector becomes truly multichannel. This should be a business imperative, as it's now so easy for consumers to switch insurance provider, and building trust and delivering the right customer experience is central to successful operations. Insurers also need to act now to put in place the customer service infrastructure that will allow them to compete in the future. Over the next five years the sector will become more complex as new technology such as wearables, sensors and in-car telematics drive even greater transformation.
The full findings, highlighting how the insurance sector performed within the Eptica Multichannel Customer Experience Study, along with recommendations for areas to focus on, are available in the Eptica Insurance Guide, which can be downloaded from http://www.eptica.com/insurance-mces-blog-2015.
Categories:
Chat, Contact Center, Customer Engagement, Customer Experience, Customer Service, E-commerce, Insurance, Multichannel Customer Service, Social Media, Self-service
You might also be interested in these posts: