Why aren't organizations embracing digital customer service?
Published on:
September 16, 2015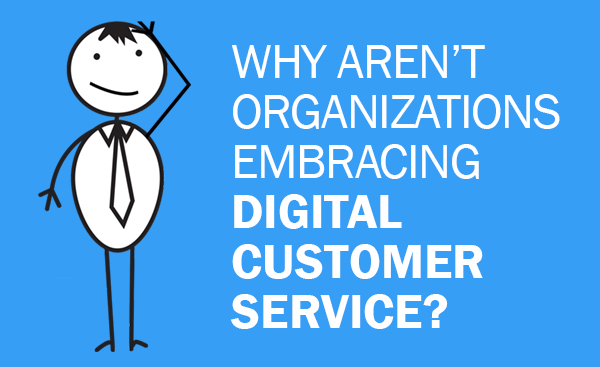 The spread of digital customer service channels, from email and chat to social media, can provide organizations with significant benefits. According to McKinsey, if done well it boosts customer satisfaction by 33% while reducing contact center call volume, and generating savings of 25-30%. However, the complexity of multiple digital channels, increasingly demanding consumers, and the sheer volume of interactions pose a major challenge to companies. For example the number of people who have used Twitter for customer service has increased by almost 70% since 2013, according to Forrester. And research by Eptica found that nearly half (44%) expect an answer to their tweet within an hour – irrespective of the time of day (or night).
Further research from McKinsey discovered that, even with the advantages of digital channels, many consumers still use analog channels such as the telephone for customer service. In a study of European telecoms companies 3% of consumers used a digital channel for customer service – half the number that called. Based on this analysis McKinsey sees four reasons for slow take up of digital service:
1. Poor online experience
Customers have high, continually rising, expectations. Digital customer service has to match and surpass this, delivering an excellent experience that reassures the consumer and provides them with a fast, accurate and comprehensive response to their query. Otherwise digital customer service will have a negative effect – frustrated and angry consumers will revert to the high cost telephone channel, adding to expense and damaging brand reputation. The Eptica Multichannel Customer Experience Study uncovered some of the issues that damage online service – from a failure to acknowledge email to chat sessions that crash and tweets that are simply not answered.
2. Failure to persuade people online
McKinsey found that less than 20% of companies had a strategy to persuade customers to use digital customer service channels. And almost 60% had little or no budget to help with this. While digital service can save money, it is imperative that companies invest first, both in the online experience and also in informing customers about the benefits and advantages of reaching for the mouse or tapping the screen rather than picking up the phone.
3. Worries about upselling
Particularly in the telecoms industry, companies are concerned that migrating customers from the telephone channel will cut off opportunities to upsell and cross-sell products. For example, even the most advanced operators still only let customers terminate their contracts by phone, as it gives them a chance to try and persuade them to stay. Even if, in the celebrated case of this Comcast customer, they have no intention of remaining onboard. By looking at innovations such as video chat or proactive text, companies can combine service with increased revenue opportunities, while still ensuring customer satisfaction.
4. No single point of control
The customer journey spans multiple departments, and in many companies this means that digital customer service is equally spread across different teams. This lack of a cohesive approach leads to haphazard organization and wide variability in performance. In the case of European telcos, McKinsey found that less than half (40%) had digital targets shared between different units, less than 30% had a dedicated digital customer service team linked to senior management, and fewer than 15% could track the customer journey across multiple channels.
McKinsey outlines three factors necessary to turn around this picture and make digital customer service work:
Make targeted investments in the right channels for customer needs, across different parts of the customer journey.
Continuously optimize the experience. Consumers are always demanding more – and companies face competitors that are continually innovating. Keep analyzing what you are doing and evolve to meet changing customer needs.
Have a strategy with top level buy-in. Digital customer service is a vital initiative and needs to be planned carefully with clear focus on what it will deliver. This should be led from the C-suite and shared across the entire organization.
Embracing digital customer service is crucial for success of every type of organization, not just telecoms companies. But it isn't as simple as starting a Twitter handle or creating a Facebook page – it requires investment, leadership and a focus on innovation if it is to improve the customer experience, reduce costs and increase satisfaction, now and in the longer term.
Categories:
Agent Knowledge Base, Chat, Contact Center, CRM, Customer Engagement, Customer Experience, Customer Service, Multichannel Customer Service, Self-service, Social Media, Telecoms
You might also be interested in these posts: