Why customer service is key to a Merry Christmas for retailers
Published on:
December 12, 2012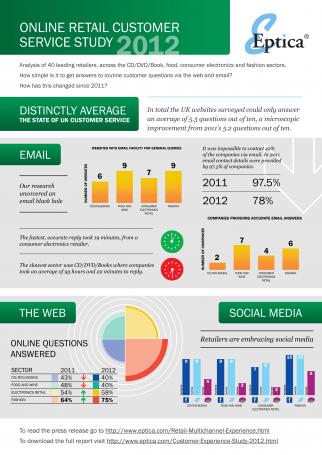 The Christmas shopping season is in full swing. We've had Mega Monday (where online orders reached an estimated £10,000 per second), and overall Christmas ecommerce is expected to exceed £4.6 billion, despite the recession.
Festive sales are vital to hard-pressed retailers. Given the overall economic picture and the importance of Christmas, those companies that fail to generate revenues over the next few weeks risk their very survival.
So the stakes are high, which makes it even more disappointing that many retailers are frustrating shoppers with distinctly average customer service. The 2012 Eptica Multichannel Customer Experience Study found that just 48% of retailers could successfully answer basic questions sent via email, while websites could answer just over half (53%) of questions asked online. You can read an infographic on the key results of the retail research here.
Our research evaluated 40 leading retailers, spanning the CD/books/DVD, consumer electronics, food and fashion sectors. The aim was to replicate consumer behaviour, so they were tested on their ability to provide answers to 10 routine questions via the web as well as their speed and accuracy when responding to enquiries sent via email. Questions included
What is your last order date for guaranteed Christmas delivery?
Do you price match?
Can I order online and pick up instore?
Can I return duplicate presents?
While there were some successes – fashion retailers answered an average of 75% of questions asked on their websites, the overall picture showed a growing gap between the best and worst. For example, food retailers scored 4/10 on average when it came to answering questions on the web. But this hid the fact that one company scored 10/10 and three others scored just 2. Clearly many retailers aren't focusing enough on helping their customers on the web.
Most worrying was the state of the email channel when it came to retail customer service. We found that it was impossible to contact nearly a quarter (22%) of the companies in the study via email, as they either had removed the opportunity for non-customers to contact them or email addresses could not be easily found. This was a dramatic change since 2011, when 97.5% of retailers provided email contact details. And it also risks breaking the law - UK Distance Selling regulations state that online retailers must provide an email address on their sites.
Unfortunately when it came to email response times, the poor performance continued. It took retailers a whole day longer to respond than 2011, with answers being received in 66 hours, 52 minutes on average. It took one retailer over 1 month to reply to an email – hardly likely to drive customer confidence that their presents will arrive in time.
At the busiest time of the year, retail customer service will really be under the spotlight over the next couple of weeks – unfortunately poor performance may well mean an unhappy Christmas for many retailers as shoppers move to rivals.
Categories:
Customer Service, Multichannel Customer Service, Retail, Self-service
You might also be interested in these posts: