Why customer service is still vital in the supermarket price war
Published on:
September 23, 2015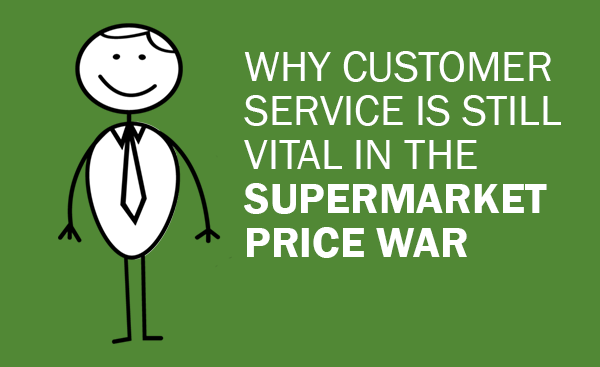 The supermarket sector is one of the most competitive sectors in the UK. A combination of new entrants, aggressive price cutting and changing shopping habits is affecting all food and drink retailers, from the largest to the smallest. As well as moving to discounters, consumers are increasingly looking for convenience alongside price, choice and quality by choosing to shop in smaller, local supermarkets instead of driving to larger, out of town superstores. They are also happier ordering online, both to buy specialist food and wine as well as their weekly groceries.
These pressures actually mean that service is even more important than ever, according to research from the Institute of Customer Service (ICS). Its latest UK Customer Satisfaction Index (UKCSI) found that the vast majority of consumers would prefer a balance of customer service and price when it comes to food retailers, with some happy to pay a premium for the best customer service. Demonstrating this, the highest ranked grocery chain in the UKCSI continues to be upmarket group Waitrose, which comes sixth overall in customer satisfaction amongst major UK brands. The study also found a direct correlation between above average service and above average growth. Food retailers that scored 1% above the sector average delivered sales growth of 5.5%. Those that were 1% below saw sales decrease by 1%.
This gap between best and worst replicates Eptica's findings in the 2015 UK Multichannel Customer Experience Study. While food retailers (which included both supermarkets and smaller specialists), dramatically improved overall at answering routine questions online, one company could still only respond to half of queries. Just half of retailers responded to a tweeted question successfully and 40% of emails went unanswered. Only one retailer managed to give a consistent response across the email, web and chat channels.
Given the importance of customer service to food retailers, what should they do to improve? There are three areas to focus on:
1. Integrate across channels
Let's face it the days of simply serving customers in physical shops is over. Food retailers increasingly sell online, and need to reflect this in joined-up service. This is particularly true when it comes to channels such as social media. With supermarkets in particular receiving an increasing volume of tweets and Facebook messages that need responding to, it means if you fail to sort out a problem quickly enough there is a danger that it will escalate into a mini-crisis due to the speed of social media. Food retailers therefore need to link channels together to ensure they deliver across all of them.
2. Empower and enthuse staff
The big four supermarkets employ nearly 1 million people in the UK. With the majority of these working different shift patterns, spread across shops and contact centres the length and breadth of the country, it can be difficult to keep track of the entire workforce and create a common service culture that motivates everyone and turns them into brand ambassadors. One way toempower staff is to give them access to consistent information so that they can do their jobs to the best of their abilities. This could mean providing access to a central knowledge base for staff so that they can deliver immediate, consistent answers whether in store (via tills or mobile devices), on the phone or on digital channels such as email or social media.
3. Be quick
As mentioned convenience is one of the key drivers behind consumers changing shopping habits. This extends to the service that customers expect. They want their queries responded to quicklyvia whatever channel they use. Retailers therefore need to learn from their staff in-stores and use this best practice when answering questions asked online. After all, if a customer asks a question in a real store, they don't expect to have to wait for hours to get a response. Applying the lessons of face to face customer service to digital channels will provide food retailers with a way to build a reputation for helpfulness across all of their operations.
The supermarket sector is undergoing unprecedented change, but one thing is clear – delivering helpful, quick and consistent customer service will increase consumer satisfaction, help enhance loyalty and consequently grow revenues – across every channel.
Categories:
Agent Knowledge Base, Contact Center, Customer Engagement, Customer Experience, Customer Service, E-commerce, Knowledge Management, Multichannel Customer Service, Retail, Self-service, Social Media
You might also be interested in these posts: