Why customer service is vital to telecoms success
Published on:
July 10, 2015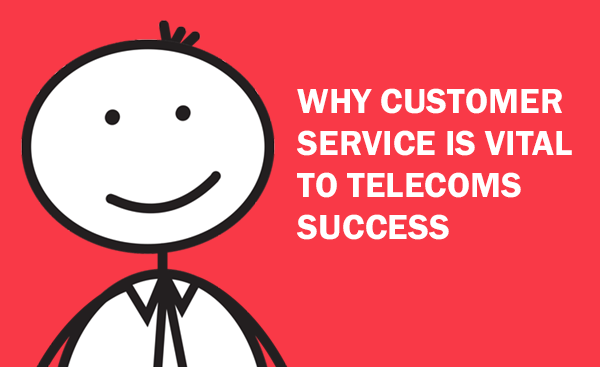 Communications technology is now central to everyone's lives. Whereas twenty years ago most people just had a fixed telephone line, today consumers rely on a combination of mobile phones, broadband, and wireless data, to communicate with the world, work remotely and stay in touch with loved ones.
As the importance of telecoms has grown, so has the significance of the customer service delivered by operators. If subscribers are cut off, even for a short while, they justifiably become upset and want to be re-connected quickly so that they can carry on with their lives. This means that any bad experience provided by a telecoms company makes headline news – as shown by EE recently being fined £1m for serious customer service failings and the widespread publicity when a Comcast agent spent 20 minutes aggressively trying to persuade an unwilling subscriber to stay.
There are four reasons why delivering the perfect customer experience in telecoms is difficult:
1. Providing a service, not a product
Unlike a retailer with a product, telecoms companies are providing a service – consumers can't see what they are getting, until it goes wrong. This makes it difficult for companies to differentiate themselves in the market, except by focusing on price or customer experience.
2. Growing complexity
As telecoms has evolved the amount of technology involved has grown exponentially. Obviously fixed line operators always had their voice network to run, but now they also have to manage broadband, TV, mobile and data services, along with associated hardware such as set top boxes and smartphones. Multiple providers can be involved in delivering services. The number of things that can go wrong has therefore also increased exponentially – and consumers hold operators responsible for ensuring that everything involved in the service they provide works together correctly. This can make it very difficult for the operators to solve technical problems quickly as the number of variables involved is potentially huge.
3. Price pressure
Fierce competition has meant that prices for telecoms packages are continually dropping, with operators introducing new services to tempt customers to switch. Loyalty is consequently low, with churn a major issue for all operators. Telecoms companies need to operate efficiently, but at the same time ensure they are delivering the right experience if they want to retain customers for the long term.
4. Consumers are much more demanding
As in every industry, consumers want fast answers to their questions and their problems solving quickly. They want responses on their channel of choice, with many using social media to share their issues with the world. Operators, such as Sprint, have responded by heavily investing in social customer care, increasing the pressure on competitors to match the service they provide.
So, how are telecoms operators faring? As part of the 2015 Eptica Multichannel Customer Experience Study, ten UK telcos were evaluated on their ability to provide service across the email, web, Twitter and chat channels. The key finding was of a sector that is struggling to cope with today's multichannel world, with wide differences in response rates between channels:
On average telecoms companies answered 60% of questions asked online – down 3% since 2014
Online performance varied considerably – one company answered 80% of questions, another managed just 40%
Just two companies successfully responded to an email question, with the time taken varying between 4 hours 34 minutes to nearly 50 hours
On a positive side 30% of telcos offered chat (the highest percentage of any sector), with all of them providing an answer through the channel
Twitter performance remained static, with 60% of tweets answered. However average speed had improved dramatically, with the time to answer plummeting from 12 hours to just 4
There were wide variances on Twitter – one company answered in 3 minutes, another took over 18 hours
Consumers now rely on telecoms operators more than ever. As services become ever more complex and competition increases the customer experience will be the key differentiator when it comes to retaining consumers and reducing churn. Operators need to ensure they are delivering the multichannel experience that customers demand – before they switch to the competition.
Categories:
Chat, Contact Center, Customer Engagement, Customer Experience, Customer Service, Email Management, Multichannel Customer Service, Social Media, Telecoms, Self-service
You might also be interested in these posts: