Why your CEO should work a shift in the contact center
Published on:
September 04, 2015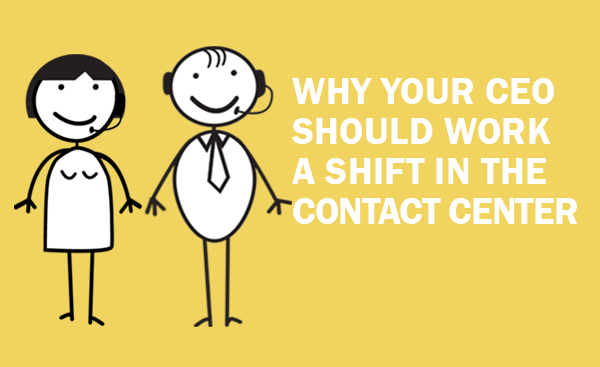 In competitive markets, customer service is often the most important differentiator. This is especially true if companies are selling similar products, at similar prices – and for service businesses such as utilities and financial services where there is no physical product to create a differentiation. When customer service is the main source of competitive advantage, it's essential to instill a desire to help the customer in every employee. You need to make customer service everyone's job.
Simply telling every member of the company that they're responsible for customer service is never going to be enough. In fact, it might actually prove counter-productive should employees jump in and answer calls or social media questions, giving inconsistent or confusing answers. So, how do you make customer service everyone's job, without creating complications? Below are four areas that may help.
1. Give everyone – including the CEO – a stint in the contact center
You might consider the approach taken by Amazon founder and CEO, Jeff Bezos, who asks thousands of managers, including himself, to spend two days working in the contact center as part of training sessions every year. A spell on the frontline helps people get a much better feel for the negatives and positives of the customer experience. What makes customers unhappy about the product or service, what do they struggle with and what areas need fixing? Only by spending time on the frontline can everyone – including senior executives – really understand how systems and processes relate to customers and how they can be amended to improve the experience.
2. Make customer service part of the culture
Creating a strong customer service culture within an organization has to start with the top management who can set an example to everyone else. Explain to people what they can do to support customer service as part of their individual job roles. Give them objectives that relate to customer service – and reward them for achieving them. Some companies have created the role of Chief Customer Officer, a senior executive that sits on the board, working independently of other departments to ensure the whole organization is focused around customer-centric strategies.
3. Enforce consistency
Train everyone about what good customer service should look like in your company to ensure consumers receive a similar level of service whoever they approach. Employees need to know what they can do for customers, how to handle concerns, and the best ways to resolve any problems that may arise. Make sure you provide the three important capabilities that Forrester Research recommends for all staff that come into contact with customers:
The ability to access and use information – to help deliver fast, accurate answers to customers' questions
The ability to interact with others as needed – if they can't resolve a customer's problem, employees should have processes or workflow available to quickly bring in other employees who can
The ability to change context or location – employees should be given easy access to information to help them understand the context of a customer's query (for example did the customer just abandon their purchase in the online checkout or raise a support ticket?)
4. Use technology to help
If you want everyone in the company to take ownership of customer service then technology can be a big enabler. Firstly, it can create a workflow that enables customer queries to be seamlessly passed on the best correct subject experts within the organization to help. Secondly, it can track all customer contacts – even if they originate outside of the customer service department – to ensure they are handled in a fast, consistent, high quality way right through to resolution. Finally, through you can create a centralized knowledge base that is available to all customer-facing staff, whatever channel they are dealing with, or department they are part of. This allows people to efficiently support customers with consistent answers, improving the experience.
Company culture, leadership, training and technology; all of these can play a role if you want to become a customer-centric organization where all employees really take responsibility for customer service. Encouraging your CEO to put in a shift in the contact center might well be a good place to start!
Categories:
Agent Knowledge Base, Contact Center, Customer Engagement, Customer Experience, Customer Service, Forrester, Knowledge Management, Multichannel Customer Service, Social Media
You might also be interested in these posts: