The widening online customer experience gap
Published on:
June 19, 2015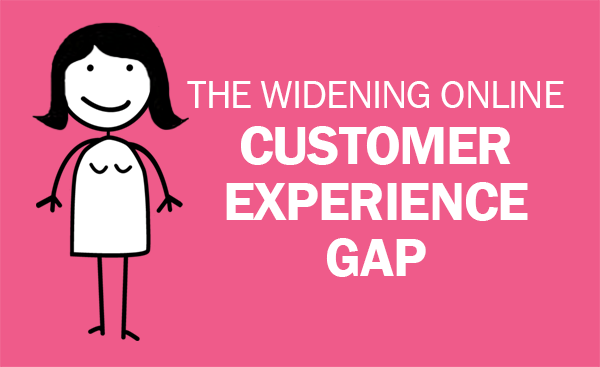 The amount of time – and range of activities – that consumers carry out online continues to grow. It is now the first port of call for everything from shopping and banking, to researching and buying insurance policies, switching telecoms supplier or booking a holiday. No wonder that in 2014 UK ecommerce sales broke the £100 billion barrier for the first time, making up 25% of total retail spend. Furthermore, this figure excludes the influence that online research has on all purchases – there are very few major products that we buy without checking the internet first.
As the web becomes the battleground for companies in every sector, the online customer experience is now vital. Expectations are high and continue to rise. Fail to provide consumers with answers to their questions on your website and they could well click over to a competitor. If they have a query while browsing customers want to be able to get an answer online – rather than being forced to send an email or call a contact centre.
So, how are companies and sectors faring when it comes to online customer service? As part of the2015 Eptica Multichannel Customer Experience Study, the websites of 100 top UK brands, spread across 10 sectors, were evaluated for their ability to answer 10 routine, sector-specific questions. This repeats research carried out since 2011, showing how service levels have changed over the last five years.
The gulf widens
On the positive side, companies could answer an average of 64% of questions on their websites, up 1% from last year. Back in 2012 this figure was just over half (53%), showing major progress over the past few years.
However, it does mean that over a third (37%) of questions are left unanswered, causing customers to switch channel or abandon their transaction. Performance is polarizing – good companies are becoming stronger (36% improved) and bad ones are slipping back (35% are getting worse). In 2014 most brands were to be found in the middle ground, with 58% answering 4-7 questions. 2015 saw this change radically, with companies clustering at the upper and lower ends of the scale. Nine companies scored 100% online, 69% scored six or more, and just under a third answered five or fewer questions.
So there's a growing gap between strong and weak performers. This has two impacts. Firstly, consumers will move to competitors who do offer a better service and, secondly, they will complain about their experience to their friends and via channels such as social media. This will erode brand reputation and put off potential consumers who hear and see bad things about a company's customer experience.
Banking up, fashion down, insurance – could do better
The widening gulf is not the only interesting result from the 2015 survey. Certain sectors seem to be investing heavily in online customer service and are benefiting from improved scores, while others are performing below average.
Fashion retailers, who topped the table in the three previous surveys, lost the top slot to banking in 2015. However, this headline figure masks a subtle nuance. In terms of average answers fashion dropped just 1% to 78%. In contrast, banking upped its game to improve by an impressive 27%, answering 91% of questions. The fact that the sector performed so much better, yet the overall average across all companies only rose by 1% shows that other organizations fell back dramatically. Overall, half of the sectors improved and half became worse. Insurance was the biggest loser, dropping from 57% to 40%.
Self-service: the future is now
In 2011, just 21% of companies had installed self-service software on their websites, enabling customers to ask questions in their own words, rather than using keyword search or static FAQs. With self-service consumers benefit from fast, accurate answers from a constantly updated knowledge base, without needing to call or email, bringing down costs for companies. Self-service has been growing rapidly since 2011, with 56% of companies now using it.
The research also shows that self-service is a big contributory factor when it comes to delivering a successful online experience. It's no accident that banking shot ahead in this latest study: over 90% of banks now have self-service functionality. Conversely, just 40% of companies in insurance, this year's big loser, had deployed the technology.
With the rise of fast broadband, 4G and connected televisions, online customer service is going to take on an ever more important role. So getting it right is critical. As the latest Eptica researchshows there is a growing gap between best and worst – meaning that organizations need to learn from their peers and address shortcomings in their online service experience, if they want to increase satisfaction, loyalty and consequently sales.
Categories:
Contact Center, Customer Experience, Customer Service, Finance, Insurance, Multichannel Customer Service, Retail, Self-service
You might also be interested in these posts: