Will 2014 be a Happy Christmas for retailers?
Published on:
December 12, 2014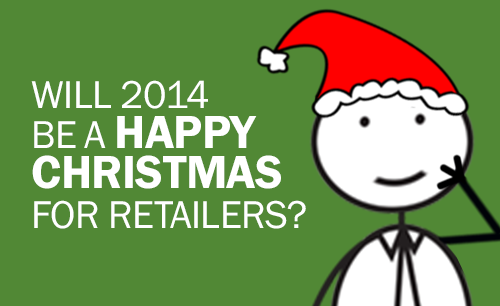 No retailer needs reminding that Christmas is the busiest time of the year, and a strong peak trading period can make the difference between success and failure for a business. There is therefore a real focus on ensuring that the shopping experience is as seamless as possible in order to drive sales. A key part of this is providing consumers with the information they need clearly and quickly, through their channel of choice.
However, a recent Eptica consumer survey has uncovered some worrying results. We looked at customer expectations for online retail customer service this Christmas, and the research highlighted four key trends:
1. The online information gap
55% of the 1,000 UK consumers polled say they cannot find basic information (such as delivery dates) on half of the retailers' websites they visit. 1% said I was impossible to uncover what they were looking for at all. The consequences for retailers are twofold. When asked to list what they did if they couldn't find information 42% of consumers said they immediately moved to a competitor, instantly losing the potential sale. 41% said they would email the company, while 17% would get in contact via phone. While this does give a retailer a chance to answer a question it frustrates consumers as they have to switch from their channel of choice and disrupts the customer journey. Secondly, it adds to a retailer's costs – answering the telephone or responding to an email has to be done by a contact centre agent, which is much more expensive than a consumer finding the answer for themselves online.
2. Rising expectations
The second key finding was that customers are much less willing to wait – they want answers, and they want them now. Whatever the channel, the need for speed is evident:
39% said they'd spend just 5 minutes looking for information on a website before giving up
60% will hold for 5 minutes on the phone before hanging up
56% expect an email to be answered within 4 hours
44% want a response to their tweets within an hour
Our own Eptica Multichannel Customer Experience Study found that the average time taken by retailers to respond is far above these expectations. In our analysis of 40 retailers, the average time to answer a tweet was 13 hours 10 minutes and it took 35 hours and 43 minutes to receive an answer to an email. 60% of questions could be answered online. The worrying thing for many retailers is that the Study found a gap between best and worst – while some companies answered tweets and emails in minutes, others took days, or even failed to respond at all. Clearly, better performing retailers are likely to pick up business at the expense of their tardy rivals.
3. Black Friday has moved shopping forward
While Black Friday is a relatively new phenomenon in the UK, it has been embraced enthusiastically. We asked consumers how much of their Christmas shopping they'd done by 5th December – a week after Black Friday. Over half (52%) of consumers had already purchased over three quarters of their shopping, with 16% claiming to have completed it. Just 12% had done none at all. Retailers therefore need to be ready for the Christmas onslaught early, and ensure that customer service systems and teams are in place in order to cope with early shoppers.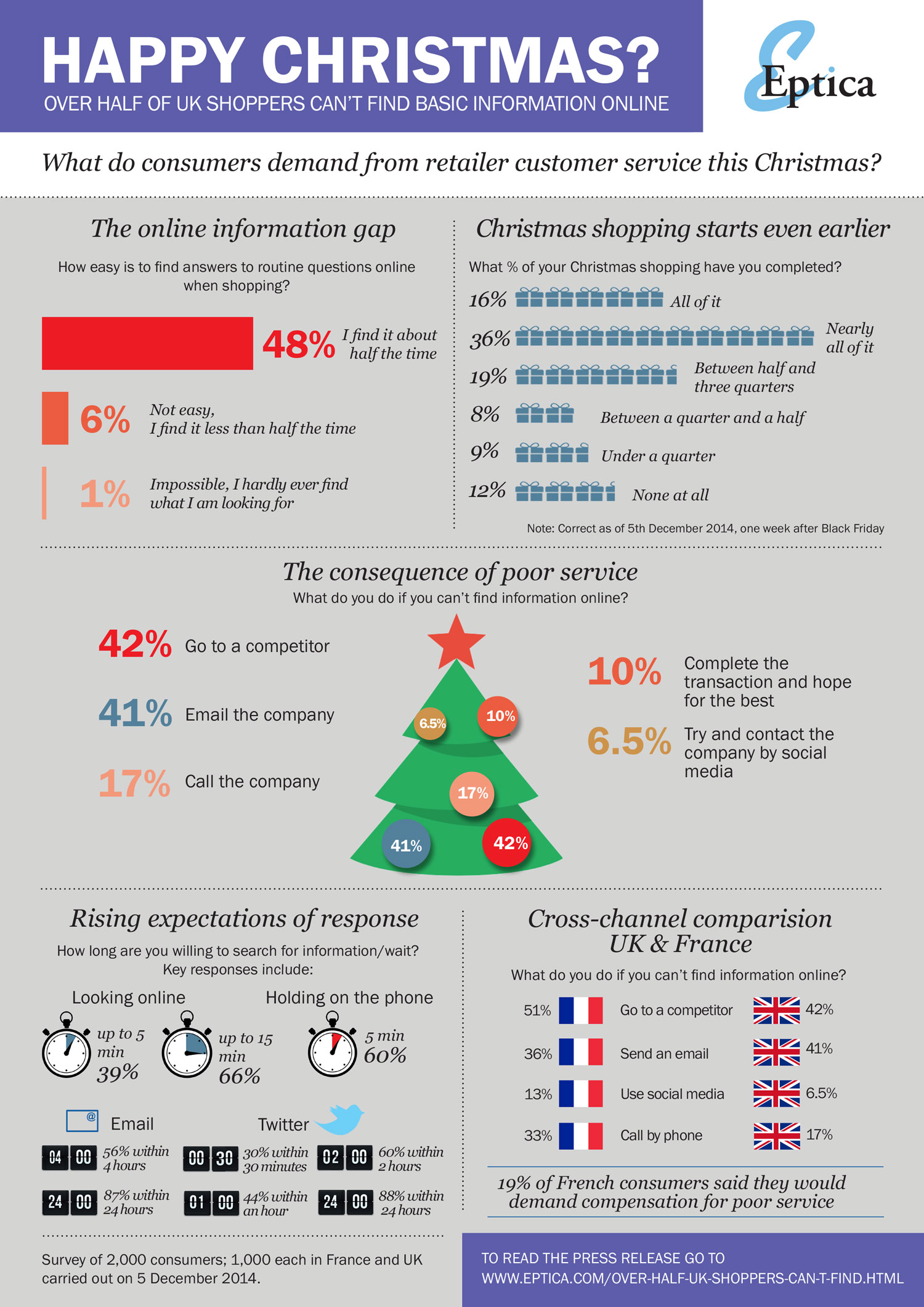 4. The French are even more demanding
At the same time as carrying out the UK research, 1,000 French consumers were surveyed in a similar study. While the responses were similar in both countries, the French are more likely to go to a competitor if they don't receive the information they require (51% versus 42% in the UK) and nearly twice as happy to pick up the phone to complain (33% against 17%). Indeed, 19% of French consumers said they would demand compensation for poor service.
You can read more on the research on the Eptica website or alternatively download our infographic. In both the UK and France, the findings show that retailers need to ensure they are able to meet customer demands for information and answers, through their channel of choice. Otherwise they will simply lose business to rivals and face increased tweets, emails and calls from frustrated consumers complaining about their service.
Categories:
Contact Center, Customer Engagement, Customer Experience, Customer Service, E-commerce, Multichannel Customer Service, Retail, Chat
You might also be interested in these posts: