5 ways knowledge management can transform your customer service
Published on:
February 10, 2015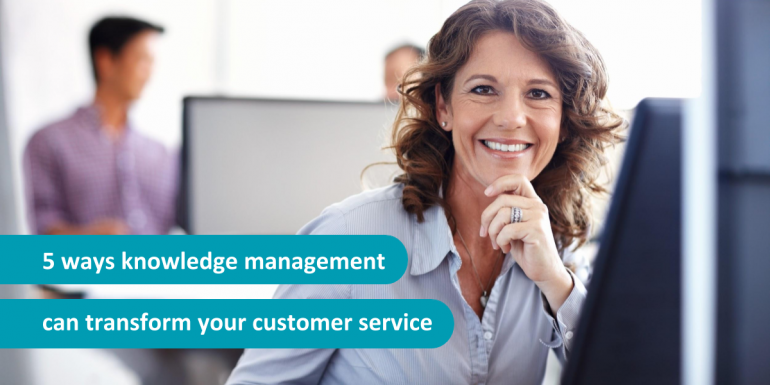 If you ask consumers to list their main issues with poor customer service then receiving inaccurate, incomplete or plain wrong answers are normally at or near the top. Whatever channel they contact you through; consumers want a response that shows you understand their query and an answer that solves their problem.
However, contacting a company can often resemble a lucky dip, with consumers receiving a different answer depending on who they speak to or the channel they use. It is important to state that this is normally not the fault of the customer service agent – they simply don't have the latest information at their fingertips, so they have had to rely on experience, their own knowledge or asking a colleague. This then leads to a plethora of problems, impacting the customer relationship and adding to costs, as consumers need to make contact again to get a definitive answer to their problem.
The best solution to this is to centralize knowledge management and ensure it is available across all your channels. So, the same knowledge base can power self-service systems on your website and be available to agents working on the email, phone, social media and chat channels.
Here are five key benefits that improved knowledge management brings:
1. Greater consistency
As mentioned, if agents (and other staff, such as in-store or branch) aren't given the same information, they are inevitably going to deliver inconsistent responses. This risks the customer relationship – the consumer will be annoyed by the confusion and if they are given the wrong answer may well take their business elsewhere. It also adds to costs if the answer provided goes against company policies and procedures.
2. Increased First Contact Resolution rates
Customers hate it when they are put on hold, transferred between agents or worse still, told that they'll have to be called back. Arming your agents with consistent knowledge means that they can answer more questions accurately, first time, without the cost and customer annoyance of having to make contact again.
3. Lower training costs Many contact centers suffer from relatively high staff turnover, and often expand dramatically at key periods throughout the year, such as at Christmas. The quicker that new agents can be up and running, the better it is for the business. Having access to a ready source of knowledge doesn't remove the need for training entirely, but it does shorten the time required to get agents confident and up to speed, as they don't need to learn manuals worth of information.
4. Faster answers
Agents are more productive if they have answers at their fingertips. This means that they can respond to more queries per hour, without impacting quality. Customers are happier as they've quickly received an answer, on their channel of choice, leading to improvements in retention and loyalty.
5. Greater customer understanding
Knowing what your customers are asking is a key source of insight into their needs and requirements. Unlike paper-based manuals or static website FAQs, knowledge management systems allow you to see what the most popular questions being asked are, and how this changes by channel. This can provide early warning into potential issues, and flag up areas, such as on your website or in your processes, that customers find difficult to navigate and that need fixing.
These are just some of the benefits that knowledge management brings to your customer service operations – feel free to add in others that you've experienced in the comments section below.
Categories:
Contact Center, Customer Engagement, Customer Experience, Customer Service, Agent Knowledge Base, Linguistics, Multichannel Customer Service, Top 2015
You might also be interested in these posts: