Scaling up to meet peak customer service demand
Published on:
January 30, 2015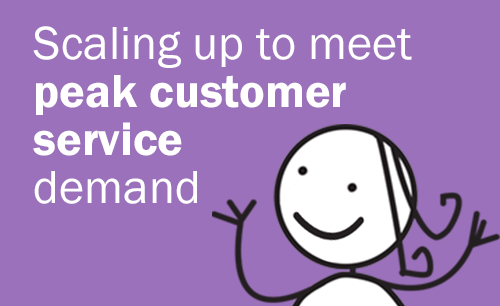 Digital channels bring new opportunities and challenges to retail businesses. Unlike in a physical shop it can be difficult to predict demand, making it more complex to ensure that you can scale to meet customer needs. Fail to deliver the right experience and consumers will simply move elsewhere, reducing sales and impacting profits.
This is particularly true at Christmas. It may be the busiest time for retailers, but it is also a time when predicting consumer behaviour is hard. For example, this year Black Friday's popularity meant that the shopping season started earlier than usual in the UK, and peaks and troughs across the Christmas period change depending on factors that can be as varied as the weather, the promotional activities of rivals or even what day of the week that Christmas falls on.
To prosper, retailers therefore need to be flexible and fast-moving. This relies on having the right technology in place, and it needs to be able to scale with customer needs in order to make the entire experience seamless and straightforward for consumers. Customers expect a fast response to their queries, whether by email, on the web or through social media, and simply won't wait days for answers.
The Works is the perfect example of a retailer that is using technology to underpin its growth. The company stocks books, toys, gifts, stationery and arts & crafts at discount prices, and sells over one million products every week. With 300 stores across the UK and an expanding online business, it serves over 22.5 million people every year, and enjoyed a bumper Christmas 2014, with ecommerce sales up 142% year on year.
It receives over 180,000 emails every year, with last Christmas seeing historically high volumes. By deploying Eptica's cloud-based email management solution, in just five weeks, it was able to ensure it delivered an efficient, high quality experience to all its customers. Using Eptica enabled The Works to enhance the speed and consistency of responses by tracking incoming emails and web forms, assigning them to agents, suggesting potential template-based answers from its knowledge base and monitoring workloads, quality and response times.
The Works is expanding rapidly online, and deploying Eptica is part of a major investment in technology and people to underpin the digital customer experience. This also includes new back office, CRM and telephony systems. The cloud-based nature of the Eptica platform means it is easy to scale to cope with The Works' future needs, and new channels, such as web self-service, social customer service or web chat can be added as required.
With the Christmas rush now subsiding, now is the time for retailers to review how customer service performed in 2014 and look at how improvements can help them deliver an even better experience at peak 2015 – however the shopping season unfolds.
Categories:
Contact Center, CRM, Customer Engagement, Customer Experience, Customer Service, Email Management, Multichannel Customer Service, Retail
You might also be interested in these posts: